About us
ACOR aims to provide a research platform from which longitudinal data can be attained and through which further research can be developed to better provide improved outcomes for all cancer patients who are at risk of cancer therapy related cardiac dysfunction (CTRCD). ACOR will achieves through an established:
Registry of all patients (adults and paediatric), prospectively and retrospectively, treated with cardiac toxic medications
MBS/PBS data linkage which will allow for an accurate reflection of patient use of the health care system in the outpatient setting when they develop CTRCD in comparison to those who do not develop heart toxicity.
Biobanking study to determine if genetic variants or biomarkers (metabolomic, stress) are predictive of CTRCD.
Novel imaging studies to assess if new stress imaging better predicts cardiac reserve and centralised models that create hubs of experience, expertise and management.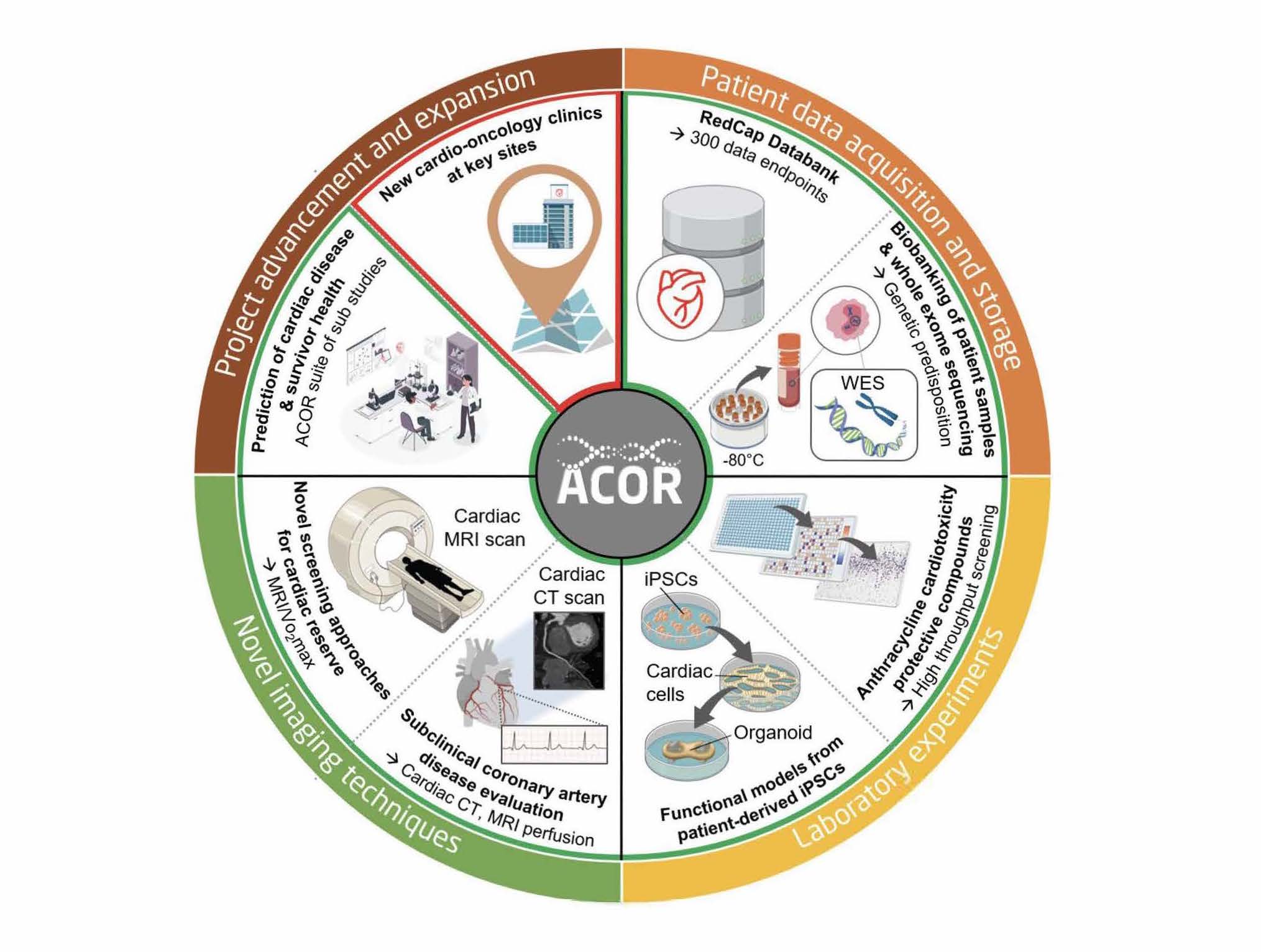 Australian Cardio-Oncology Registry and Biobank Framework.
The existing infrastructure and governance, research projects and proposed expansion. (Clockwise rotation from top) (i) Current Patient data acquisition and storage (Orange) – All participating ACOR sites (n=12) contribute to the ACOR REDCap database with > 300 oncology and cardiac endpoints. Patient blood samples are acquired and stored locally until ready for whole exome sequencing (Aim 2). (ii) Laboratory Studies (Yellow) – a range of separately funded laboratory studies are currently ongoing including functional studies using patient derived pluripotent stem cells to generate cardiomyocytes and cardiac organoids. These models are then used to review sensitivity to anthracyclines and complement the whole exome sequencing results. A high-throughput cardioprotection screen is ongoing using FDA products for repurposing. This study is aiming to find cardioprotective compounds against cardiotoxicity. (iii) Novel Imaging Techniques (Green) – two major novel imaging techniques are being pursued for better indication of cardiac reserve and subclinical coronary artery disease; including exercise cardiac MRI, VO2 max testing, cardiac CT and MRI perfusion scans. (iv) Project Advancement and Expansion – we propose opening cardio-oncology hubs at three busy tertiary centres with expertise in cardio-oncology care and research. Cardio-oncology hubs will provide protocolised risk assessment and guideline directed cardiac surveillance and enrolment in the ACOR  suite of novel research studies.